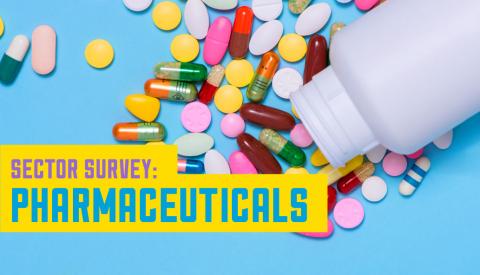 Focus on generic drugs, presence of local players and intense competition is what makes the Indian Pharmaceutical Industry significant. The country is the world's third-largest pharmaceutical market globally in terms of volume and thirteenth-largest by value.1 The Indian pharmaceutical industry registered a growth of 15.1% from $27 Bn in the Financial Year (FY) 2014-15 to $31 Bn in FY 2015-16.2 Much of this growth was attributed to rapid increase in exports – the country is the largest supplier of cost-effective generic medicines to the world, accounting for 20% of global exports in terms of volume. With the government's thrust towards manufacturing under the 'Make in India' initiative, the industry recorded a 9.7% increase in exports in FY 2015-16.3
To realise the vision of making India the largest global provider of quality medicines and encourage innovation, the Department of Pharmaceuticals under the Ministry of Chemicals and Fertilizers launched the Cluster Development Programme for Pharma Sector (CDP-PS) in December 2015.4
The demand for pharmaceutical products is predicted to rise to meet the needs of a growing population. According to the United Nations, India's population is set to touch 1.45 billion by 2028, making it the world's most populous nation.5 With socio-economic changes, the society is more prone to lifestyle-related ailments, including diabetes, obesity, stroke and cancer and this is where the Pharma sector steps in. Income levels are rising and so is public health-care spending and healthcare financing: all of which implies a high growth trajectory in the years to come.
One of the key strengths of the sector is its strong export potential, with Indian Pharma companies making their presence felt around the world. The high demand for generic medicines in India is being fulfilled by the country's strong drug manufacturing infrastructure. A range of factors including competitive land rates, skilled labour, low costs of resources like water and electricity have contributed to the low cost of production in India.6 Additionally, the industry's focus on innovation, Research and Development (R & D) and product diversity makes it a leader among the league of developing countries. India's biologics capabilities and its human capital is an asset for this knowledge-led industry.
The Union Budget 2017-18 shows an increase of 23% in the health expenditure that is likely to give further impetus to the pharma sector. The government, as part of the Budget, has proposed amendments to the Drugs and Cosmetics Rules to ensure availability of generic drugs at reasonable prices and promote the use of generic medicines.7 The government has also introduced a range of fiscal incentives to promote domestic manufacturing, including the reduction of inverted duty structure and basic customs duty.
Increasing demand for healthcare and sophisticated devices has brought the "Medical Devices" Industry to the forefront. The industry boasts of more than 14,000 product types. The Medical Devices Rules, 2017, framed in conformity with Global Harmonization Task Force framework have been notified. These rules aim to ease regulatory norms for manufacturing medical devices and equipment. The government has also rectified duty anomalies in the industry. The $2.5 Bn market is growing at a Compound Annual Growth Rate (CAGR) of 15%, which is much higher than the 12% growth witnessed in the healthcare sector as a whole.8
Drug patenting is significant to spur growth in the pharmaceutical sector. The National Intellectual Property Rights (IPR) Policy launched by Department of Industrial Policy and Promotion (DIPP) in May 2016 lays down processes to expedite IPR filings that are critical for the success of the sector.9
Providing essential drugs and medicines at cost-effective prices is the key focus of Department of Pharmaceuticals, Ministry of Chemicals and Fertilizers. Under the National Pharmaceutical Pricing Policy (NPPP), the National Pharma Pricing Authority regulates the prices of essential drugs. The Authority also monitors the availability of drugs and identifies shortages, if any. As on December 15, 2016, ceiling price of 853 formulations are under price control. The fixation of ceiling prices on medicines has resulted in a total saving of $392 Mn since May 2014.10 Various notable steps have been taken by the government in a bid to boost sector growth. Pharma Jan Samadhan, a customer grievances redressal system was launched to address consumer complaints, a mobile application - Pharma Sahi Daam that provides real-time information to consumers on prices of Scheduled/Non-scheduled medicines has also been introduced and the Pharma Data Bank, an integrated pharmaceutical database management system was launched to facilitate online filling of mandatory returns as prescribed for Drugs.
To ease the process of doing business, the government introduced initiatives including Pharma Jan Samadhan, a customer grievances redressal system and Pharma Sahi Daam, a mobile application provides real-time information to consumers on prices of Scheduled/Non-Scheduled medicines, among others.
Healthcare is the fifth-largest employer among all sectors (both in terms of direct and indirect employment). Given the significance of highly educated and specialized scientists in the sector, skill development is a massive requirement.11 The National Institute of Pharmaceutical Education and Research (NIPER) imparts quality education in the areas of pharmaceutical sciences. 11 NIPERs were approved till 2015, while 3 new NIPERs at Chhattisgarh, Maharashtra and Rajasthan were announced in 2016.12
Superior quality and technology coupled with an enormous variety of medicines ensure that India continues to be one of the most lucrative pharma markets in the world. The rapidly growing Indian pharmaceutical industry is predicted to become the sixth-largest market globally by 2020, with its value reaching $55 Bn by absolute size.13
Source:
1 http://www.ibef.org/blogs/india-pharma-outlook-and-brand-india
2 https://drive.google.com/file/d/0B-Tv7_upCKANT3kyS1pjbkRjQ2M/view
3 http://economictimes.indiatimes.com/news/economy/foreign-trade/pharma-exports-up-9-7-per-cent-33-per-cent-growth-in-us-markets-in-fy16/articleshow/52012189.cms
4 http://pharmaceuticals.gov.in/sites/default/files/CDP-PS_0.pdf
5 http://www.thehindu.com/todays-paper/tp-national/india-to-be-most-populous-country-by-2028-un-report/article4816016.ece
6 http://pharmaceuticals.gov.in/pharma-industry-promotion
7 http://www.moneycontrol.com/news/business/budget-2017-fmannounces-amendmentsdrugscosmetics-rules_8401481.html
8 http://ficci.in/sector/76/Project_docs/Medical_Devices_and_Equipment_Sector_profile.pdf
9 http://www.thehindu.com/business/all-you-need-to-know-about-the-intellectual-property-rights-policy/article8600530.ece
10 https://drive.google.com/file/d/0B-Tv7_upCKANT3kyS1pjbkRjQ2M/view
11 https://assets.kpmg.com/content/dam/kpmg/pdf/2016/03/Healthcare-the-neglected-GDP-driver-2015.pdf
12 https://drive.google.com/file/d/0B-Tv7_upCKANT3kyS1pjbkRjQ2M/view
13 https://drive.google.com/file/d/0B-Tv7_upCKANT3kyS1pjbkRjQ2M/view