MAKE IN INDIA: SWEDEN 2O17
India organised a 2-day event in Stockholm, Sweden, with the aim of exploring synergies and avenues of partnership between Indian and Swedish manufacturing industries.
Events Image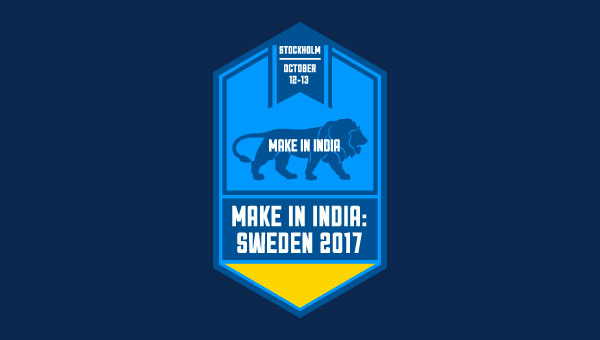 Major Highlights
India and Sweden have shared a long-standing relationship for over two decades. Mutual economic interests have always served as a key driver, though trade ties have been significantly enhanced in the last few years. Today, there are over 185 Swedish joint venture wholly owned subsidiaries in India.1 Besides, the government's 'Make in India' initiative, which aims to invigorate the country's manufacturing sector and enhance India's global competitiveness, has led to an increasing number of Swedish investments in the country.
To further bolster the Indo-Swedish relationship and explore new areas of partnership, the Department of Industrial Policy and Promotion (DIPP) organised 'Make in India: Sweden 2017' at Stockholm from October 12-13, 2017. Several bilateral and business high-level meetings were held in the run-up to the event to discuss collaboration and investors' plans to establish or expand presence in India in spheres that go beyond the traditional – smart cities infrastructure, startups, healthcare and green energy.2
One of the most significant highlights was the second edition of the India-Sweden Business Leaders' Roundtable (ISBLRT), which was inaugurated by Sweden's Prime Minister, Mr. Stefan Lofven. The meeting focused on discussion of cooperation between the two countries and the progress achieved by four Joint Working Groups (Digitization, Smart Cities, Defence, and Skill Development).3
Make in India Session
The event kick started with the Make in India Session on October 12, which was chaired by India's Commerce and Industry Minister, Suresh Prabhu and Sweden's Minister for Foreign Trade and EU Affairs, Ann Linde, apart from other prominent Indian and Swedish industrialists such as Chairman, Ericsson and Astra Zeneca, Leif Johansson and Presidentf and Director, Volvo Group India, Kamal Bali. The session laid emphasis on Sweden's significance as a business partner and how the strengths of both India and Sweden can be tapped to enhance this mutually beneficial collaboration.
Additionally, Swedish companies highlighted their experience of working in India and how the country has now become their largest partner for doing business. A case in point is Volvo, who has made India their Research and Development (R&D) and global manufacturing hub for all their medium-duty engines. They are also pioneers in leading public electro-mobility transport as well as sustainable public transport solutions. In July this year, Volvo announced that globally all new cars launched by the company from 2019 onwards will be partially or completely battery-powered. This strategy is in line with Electric Mobility Mission Plan of the Government of India, which envisages making India an all-electric vehicle market by 2030.
Startups Session
The session on startups deliberated on the possible areas of collaboration such as waste management, optimum use of energy, urban transportation between the Swedish and Indian startup ecosystem. India aims to imbibe Sweden's strengths in Research and Development (R&D), since Sweden has had the second-fastest growth in the number of patents per capita. Additionally, Sweden's strong commitment to R&D is visible as it spends 3.2% of its Gross Domestic Product (GDP) on R&D.
In order to cement further ties, Invest India (India's investment facilitation cell) signed a Memorandum of Understanding (MoU) with Founders Alliance, a network for Sweden's leading entrepreneurs. The signing of this agreement marks the formation of Sweden India Startup Sambandh (SISS), which aims at fostering stronger engagement among stakeholders in both ecosystems, providing a favourable business environment and necessary guidance to startups in both countries.4
The salient features of this Hub include:
Go-to market guide for Swedish entrepreneurs on how to enter India, which includes assistance on the visa process, tax system in India as well as other procedures.5
Acquaint the startups with the Indian market and various stakeholders of the startup ecosystem.6
A one-on- one facilitation cell, which will provide assistance to Swedish startups in India and help them resolve any roadblocks or challenges they face in the ecosystem.7
Also, an exchange programme between startups, incubation centres, educational institutions and private organisations is being planned in 2018 to foster the spirit of innovation between entrepreneurs of both nations. Invest India is slated to organise a visit for a Swedish delegation of startups next year. The programme will try to explore new areas of collaboration, including leveraging the expertise of Swedish incubators through training of Indian incubators. Besides, a joint India-Sweden challenge for collaboration between startups of both nations also features on the agenda.8
Automobile Alliance
The Automobile round table focused on the significance of the automobile sector for cooperation between the two nations. During the session, Minister of Industries from Maharashtra, Shri Subhash Desai and Minister of Industries from Karnataka, Shri R V Deshpande, highlighted the strengths of their states in automobile manufacturing and how both Maharashtra and Karnataka would serve as ideal locations for Swedish Original Equipment Manufacturers (OEMs) to establish their operations. Karnataka has also become the first state to approve the Electric Vehicle and Energy Storage Policy to promote research and development in electric mobility. Similarly, Maharashtra has launched pilot projects for public transportation in Nagpur, which includes hybrid and biogas-based transformation systems.9
Smart City Session
During the Smart City session, both Indian and Swedish sides discussed the investment opportunities in cities in areas such as water treatment and recycling solutions, sewerage treatment solutions, waste to energy solutions, sustainable energy solutions and traffic management solutions, among others. India aims to utilise Sweden's expertise in innovative and sustainable solutions for core infrastructure elements of a smart city. Furthermore, the session also witnessed the Swedish side emphasise on the implementation of parameters such as life-cycle costs for procurement of various services for Smart Cities.
Lastly, Swedish stakeholders highlighted a possible rise in electrical energy requirements for sustainable development, since the estimated energy requirement would increase three-fold in the next decade.
Industrial Goods Roundtable
The Roundtable on Industrial Goods highlighted the potential of the sector and its predicted growth - from a market size of USD 37 billion in 2015 to USD 80 billion in 2025. Representatives from leading companies such as Bharat Forge, ABB and SKF identified that the market size for capital goods would be around USD 250 billion in lieu of the targeted infrastructure, industrial and economic development.
Furthermore, the session also deliberated on how india can partner with Sweden in the sphere of textile machinery, since Sweden's machines are 40% more efficient than the ones used in India.
Healthcare Roundtable
During the Roundtable, key areas of collaboration including public healthcare systems, digital health and innovation with a focus on investment opportunities in pharmaceuticals and medical devices was discussed. India currently exports 20% of global generics, and hence is the largest global player, however with the new Intellectual Rights Policy (IPR), the country has the potential to become the largest drugs manufacturer and exporter in the world.
Furthermore, the Indian side also discussed how India and Sweden can partner, especially with respect to access to services even in the most remote parts of India. This would entail massive overhaul in ICT systems, including remote consultations and quick evacuation in case of emergency.
Apart from these sessions, there was a session on Innovation and R&D, which highlighted how India has adopted the new Intellectual Property Rights (IPR) regime, which is simpler and more transparent with regard to filing and approvals of patents and trademarks. The new Policy is designed to facilitate Ease of Doing Business, thereby ensuring credibility with potential investors. Besides, sessions on Healthcare and Industrial Goods were also held.
The Make in India: Sweden 2017 reiterated the commitment to further strengthening the Indo-Swedish economic partnership and exploring new avenues of collaboration. Sweden has for long been making in India and has created employment opportunities directly and indirectly for approximately 1.2 million people. Sweden is recognised as one of the leading nations in innovation, while India boasts its vast pool of talent and world-class engineering. Such complementarity is unique and promises mutually fruitful cooperation going forward This is likely to enhance existing synergies to further explore association between two nations and reach the pinnacle.
Source:
1 http://www.mea.gov.in/Portal/ForeignRelation/Sweden_August_2017.pdf
2 http://pib.nic.in/newsite/PrintRelease.aspx?relid=171658
3 http://pib.nic.in/newsite/PrintRelease.aspx?relid=171658
4 https://www.startupindiahub.org.in/content/sih/en/startup-scheme/press-release.html
5 https://www.startupindiahub.org.in/content/sih/en/startup-scheme/press-release.html
6 https://www.startupindiahub.org.in/content/sih/en/startup-scheme/press-release.html
7 https://www.startupindiahub.org.in/content/sih/en/startup-scheme/press-release.html
8 https://www.startupindiahub.org.in/content/sih/en/startup-scheme/press-release.html
9 http://www.investkarnataka.co.in/assets/downloads/Karnataka-State-Electric-Vehicle-&-Energy-Storage-Policy-2017.pdf